O.M. Whipple Columbarium & Garden of Remembrance
In the fall of 2015, the Lowell Cemetery dedicated the O. M. Whipple Columbarium & Garden of Remembrance in response to the increasing demand for cremation options. Lowell Cemetery created a serene place to memorialize loved ones that blends into the lush landscape of one of the first garden-style cemeteries in the United States. The columbarium complements the historic monuments and enhances the beauty of the Cemetery which is listed on the National Register of Historic Places.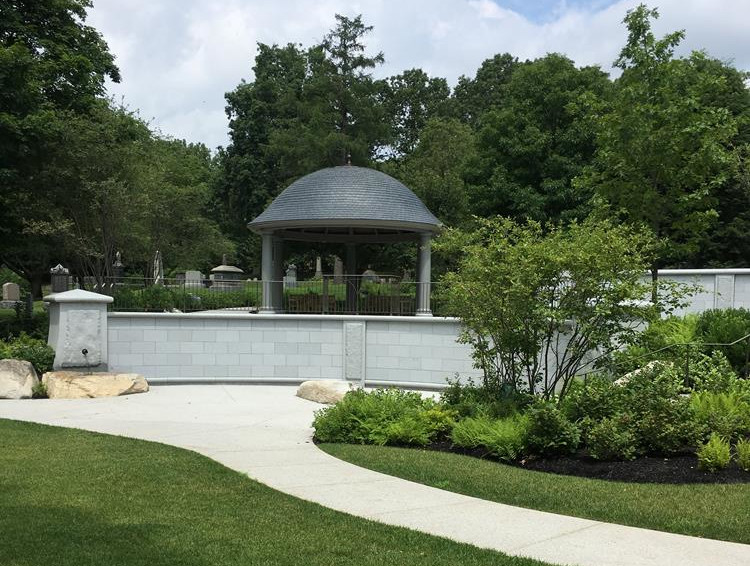 The Lowell Cemetery has always been receptive to changing attitudes about death and memorialization. Since the Cemetery first opened in 1841, there have been over 18,000 burials in this beautiful setting. There has been an increasing preference for cremation. Cremation is less expensive, more ecologically sensitive, and has been growing in acceptance across all ethnic, cultural, and religious traditions.
Named for the donor of the land on which the Cemetery is situated, this architecturally distinctive columbarium is located on a beautifully landscaped hill with expansive views of the Cemetery. The unique design features three curved columbarium walls with niches for urns containing cremains, garden landscapes with walkways and benches, a Veteran's Memorial Area, and a water feature for contemplation and reflection. The crowning element of the columbarium is the majestic pavilion where families and friends can gather for memorial services.
If you would like to download our O. M. Whipple Columbarium & Garden of Remembrance informational brochure for printing and distribution, you can view and save a PDF file from the following link.
View an article about our columbarium found in the February 2016 issue of ICCFA Magazine.
Pricing
Single Urn Niche $2,500 - $3,000
Double Urn Niche $3,000 - $3,600
Family Niches (3 urns) $5,000 - $6,000
Family Niches (4 - 6 urns) $10,000 - $12,000
In-Ground Cremation Spaces $10,000 - $12,000
Engraving Fees
Includes Name, Birth Year, and Death Year
One Full Name Engraving $300
Two Full Names $450
Year of Death Only $100
Veterans' Plaque Engraving (Includes Name and Service Affiliation) $200
Sale price includes one opening per designated urn (single, double etc.), perpetual care, and one use of pavilion per urn placement. Prices are subject to change without notice.