The Ayer Lion
The J.C. Ayer lot is the home of the most splendid monument.
The monument is in the form of a magnificent white marble lion, somewhat life size, and placed on a series of marble blocks forming a symmetrical pedestal. It is of a superior Italian marble, and was executed in London by the celebrated sculptor, Mr. Price Joy. As a work of art it is a notable piece, the pose being admirably chosen, the contours graceful and true to nature, while into the face has been cut a peculiarly sad and meditative expression, as becomes the dignity of the traditional king of beasts as well as the seriousness of the surroundings.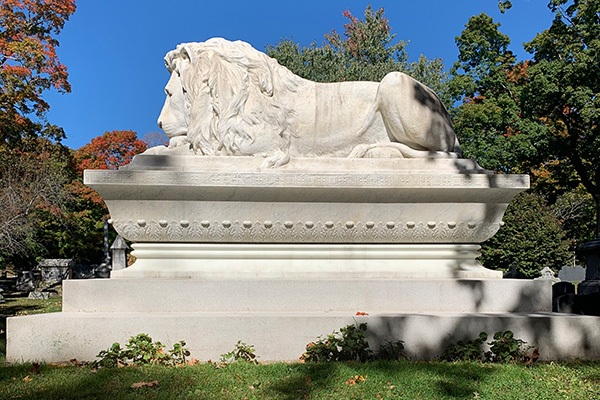 One of the first and pleasantest impressions of which the visitor is conscious is the remarkably skillful way in which the sculpture has softened or suppressed the brute motive of his work, showing a sympathy both for the subject and the melancholy sentiments associated with the location "The beautiful city of memories" is enriched by the placing of the noble monument within its enclosure.
The order for the work was placed in 1888 with Mr. Joy, whose popularity abroad as a sculptor is attested by the fact that among the orders given him were the John Bright and Gladstone monuments. This statue is eight feet high and rests on a base 7×13 feet.
The weight is not far from twenty five tons.
The Ayer estate has provided the necessary funds to cover this lion with a large wooden structure to protect it during the winter months.