Having been established as a Garden-style Cemetery in 1841, the Lowell Cemetery has continued to maintain the grounds including the flower gardens, lawns, trees, and shrubs in the same pristine condition as envisioned by its original incorporators who chose the eminent surveyor, George P. Worcester to design the Cemetery with its natural setting of hillocks and trees.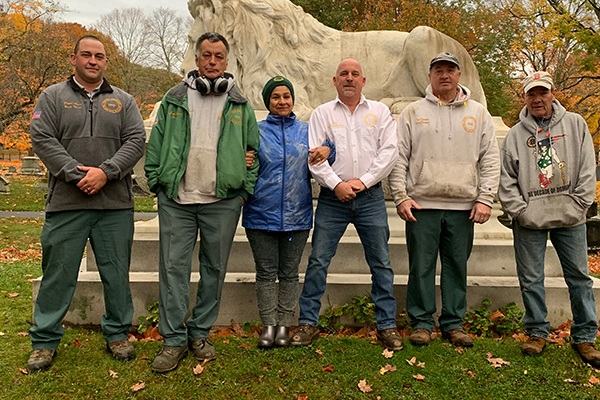 Worcester enhanced his work by designing curved roads and paths under a planned canopy of oaks, beeches and ash trees. Paths were named for flowers and shrubs; and the roads were named for prominent people. The development of the burial lots with their makers and monuments only enhanced the entire Cemetery design. This is one aspect that makes the Cemetery so charming to this day.
The ongoing care and maintenance of the Cemetery is the result of a crew of dedicated groundskeepers under the direction of the superintendent. The Cemetery has a full-time staff of five who work throughout the year. An additional five to six seasonal employees begin work in the early spring and stay through the end of November each year. Many of the seasonal staff have been with the Cemetery for twenty years or more.
Today, Lot and Niche Owners need not worry about the upkeep of their lots or niches. The staff are continuously maintaining the grounds. The Cemetery also has a Grounds Committee who oversees the ongoing maintenance and development of the grounds. For further information about the Cemetery please call the Cemetery office at: 978-454-5191 or email: [email protected]